'Would you know my name/If I saw you in heaven
Would it be the same/If I saw you in heaven…'

Eric Claptons' song had been bothering me all month. Wherever I was or went to this April, I caught myself singing it, or rather humming- I'm not that much of a singer. Who doesn't know the iconic Tears In Heaven? A meditation on death and grief -I loved it… Until it didn't leave anymore! Or just for a few minutes!
I didn't get it. Why had it installed itself in me? I didn't even know all lines. I had checked them out, trying to find some clue.
I'm happy April is finally over. I hope it'll disappear again- the song, I mean. I don't want it up there all the time, cemented in my brain. I don't like it… Imagine a tune, or some lines, being stuck in your head forever!
TINY LITTLE DETAILS
After all, it's the little things in life that bother you most. Wars, tsunamis, famines, they're horrible, and the suffering is immense, I'm sure, but that's not what I mean.
I'm talking about the details of life. Each day consists of tiny little details, which decide if you're having a good day or not… And there are hundreds of tiny little details, waiting to influence you, as soon as you open your eyes.
Let's say you slept well; no horrible dreams, nothing. You're up and about and full of energy. You shower, get dressed, enjoy a great espresso, and decide today is the perfect day for your new coat.
However, as you're about to leave you can't find your phone. Not in your bag, nor in your pockets, nowhere… There you are, with only 5 minutes left to be in time for the most important meeting of your week! Suddenly, it's not a good day anymore. It's a bad day now! Definitely. Like I said, it's all about those tiny little details.
OUT OF THE BLUE
The same with Tears In Heaven. It continued popping up in my head; all the time. Out of the blue. There was no way to escape it. It emerged wherever I was. With a friend in a bar. Waiting in line at the supermarket. On my bicycle… Why?
'Would you hold my hand/ If I saw you in heaven/
Would you help me stand/ If I saw you in heaven…'
As soon as the familiar lines overruled me, and I don't claim any deep thinking here, just the usual brain chatter, I felt totally bleak and gloomy.
Of course, I knew of the story behind the song- the death of Clapton's 4 years old son, fallen out of the window, a true nightmare, but what did it have to do with me? Clapton himself seemed all vibrant and dynamic, whenever he was seen. And no tears there…
One day I was preparing tea in the kitchen, waiting for the water to boil. Staring at the calendar nearby it suddenly hit me! It was April! How could I've forgotten!?
THE FORMER SUPREME COURT JUSTICE
In the month of April one of my dearest and longtime friends had died. A former Supreme Court Justice. Highly respected. Much admired. Yet he'd left the bench prematurely. He'd had enough of the law and thrown out all his law books- 40 boxes were carried out of his house. He preferred literature instead. French literature. His favourite writers were Balzac and Proust.
'Time can bring you down/ Time can bend your knees/
Time can break your heart/ Have you begging please…'
I had been assigned to write his profile for the weekly I worked for and we became friends in the process. He was 67 at the time. We stayed friends until the day he died, just before his 87th birthday.
He never got married: 'Oh, no!' he would say, 'I would always be too busy wondering if everything is to her liking and I wouldn't be able to do things myself anymore…'
He had this huge talent for friendship and both younger and older people used to be part of his life. He had nothing of the arrogance some intellectuals have towards whoever is perceived as not being on their own level. He shared his thoughts and ideas as generously with you, as with those of his own age and stature.
FREEDOM OF EXPRESSION
He always made you feel important- valued by his interest in whatever idea you tried to express, or come up with. Without emphasizing it- fully natural. The ability to speak one's mind was adamant for him. He saw freedom of expression as the matrix of every other form of freedom.
It must have been a part of his deep admiration for the former US Supreme Court Justice, Benjamin Cardozo, and his well-known saying: 'There shall be no compromise of the freedom to think one's thoughts and speak them, except at those extreme borders where thoughts merge into action.'
When he got older we met at his place. Every fortnight. Always on Saturday afternoon. Tea would be ready. A big box of chocolate waiting on the small table we used to sit at. Or a cream-topped cake.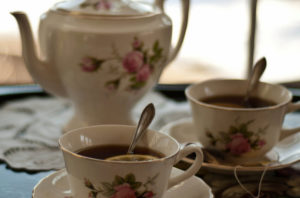 © Rosann Jorde
By then he was renowned for starting a public debate on individual rights to suicide for the elderly, once older people wouldn't want to live any longer, for whatever reason.
We often discussed it fiercely. I didn't like his thoughts on the subject, as it had turned into a preference for a pill, named after him. I was afraid he might use it himself one day. I wanted him to outlive everybody- most of all myself; however impossible.
AFTER DEATH
He did not believe in any God. He was convinced there was nothing after death, except death. He liked to make up stories, telling funny stuff about a world without death. I often worried about a world without him.
Once I asked him for a signal. Could he give me a sign after he would be up there? Something? Anything?
I like to know if you're all right, I had added- only half joking.
For a few seconds he had stared at me in utter disbelief. Then he had said, in a deadpan kind of way: 'Of course..I'll do that…'
I knew he would, if he could.
He's been dead for 13 years now. Of course there never was a sign from him and I don't know how he is doing. Nor do I know where he is.
'There is nothing for you to know,' he used to say. 'I'll be dead. That's all.'
He would be so wrong there…
'April is the cruellest month…'
The opening lines of T.S. Eliots' Waste Land coming up.
'Winter kept us warm, covering
Earth in forgetful snow…'
How could I have forgotten them.